Welcome to the KBPROC

®

Website
KBPROC - Knowledge Based Processing Corporation is a privately owned company operating on the west coast of Canada that has grown and evolved over the past two decades into an enterprise that now provides engineered software solutions and custom data processing and integration services.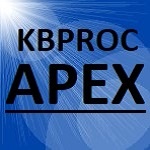 'KbProc.APEX' is our flagship product specifically designed for the pipeline industry and will support the development of detailed cost data for the construction of major pipelines. The advanced pipeline estimating & execution planning system allows for comprehensive construction cost and schedule modeling. Integrated risk analysis using Monte Carlo simulation and 'What-If' analysis capability provide the system engineer with tools to conduct in-depth model analysis and clearly understand cost and schedule relationships. The purpose-built software system assists throughout the iterative process of developing project estimate data.
KBPROC is aligned with strategic partners strong in complementary services so that we are able to consistently expand and improve our service and expertise offerings to our clients.
Comprehensive construction cost & schedule modeling supports the development of budget cost data for pipeline construction projects. From start to finish and everything in between KbProc.APEX is the solution.